Venue & Sightseeing
Venue

Xiangcheng Platinum Hanjue Hotel,Add: 1111 City Avenue, Suzhou City, Jiangsu Province, P.R.China.
Tel: 0512-66158888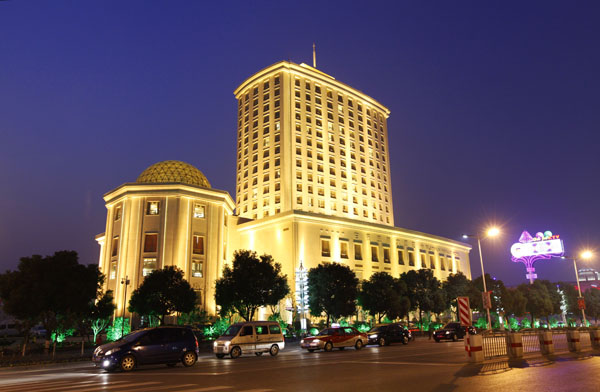 Humble Administrator's Garden

As a representative classical garden of South of China, the Humble Administrator's Garden was built in the early years of Zhengde in the Ming Dynasty (in the early sixteenth century), with a history of over 500 years. Located at 178 Dongbei Street in Suzhou, the garden is a UNESCO World Heritage Site and one of the most famous of the gardens of Suzhou. At 51,950 m2, it is the largest garden in Suzhou and is considered by some to be the finest garden in all of southern China.
Suzhou Musuem

Founded in 1960 and originally located in the national historic landmark, Zhong Wang Fu palace complex, Suzhou Museum has been a highly-regarded regional museum with a number of significant Chinese cultural relics. A new museum designed by world famous architect I.M.Pei and completed in October 2006, covering over 10, 700 square meter and located at the cross of Dongbei Street and Qimen Road. The design of this new museum visually complements the traditional architecture of Zhong Wang Fu. The new museum houses over 30000 cultural relics --- most notably for excavated artifacts, Ming and Qing Dynasty paintings and calligraphy, and ancient arts and crafts.
Pingjiang Road

Pingjiang Road, historically known as Shiquan Li, is a street along Pingjiang He and historic district in Gusu District (formerly the Pingjiang District), northeastern Suzhou, Jiangsu, China. The main street (Pingjiang Road) is 1,606 metres (5,269 ft) in length. It stretches from Ganjiang East Road in the south to Baita East Road in the northwest, near the Humble Administrator's Garden and Suzhou Museum.
Jinji Lake

Jinji Lake (literally Golden Rooster Lake) is a small fresh water lake located in the central part of Suzhou Industrial Park, Jiangsu, China. It occupies an area of 7.18 square kilometers and its average depth is about 2.5 to 3 meters. There are two man-made islands in the lake.
Hanshan Temple
Located at the Fengqiao Town, 5 kilometers from Suzhou City, Hanshan Temple (literally: "Cold Mountain Temple") is a Buddhist temple and monastery in Suzhou. It was constructed during Tianjian era in Liang Dynasty, with a history of more than 1400 years. It was originally called "Miaoli Puming Temple" and then changed its name into "Hanshan Temple" for it was said that Hanshan and Shide, the famous monk during Tang Dynsaty, had been the abbot of the temple. It was one of the ten greatest temples of China in history.

Hanshan Temple is famed because of the poem "A Night Mooring by Maple Bridge", written by Zhang Ji, a famous poet in Tang Dynasty. The poem describes the melancholy scene of a dejected traveler, moored at night at Fengqiao, hearing the bells of Hanshan Temple.
Tiger Hill

Tiger Hill (Huqiu) is a hill in Suzhou, in China. It is a popular tourist destination and is known for its natural beauty as well as historical sites. With a history of more than 2,500 years, the Tiger Hill has been known as No. 1 Sight of Suzhou. The great Song literary man Su Dongpo said, "It would be a pity if you had been to Suzhou but didn't get to visit the Huqiu." As a showcase of Suzhou and one of the first ten exemplary civilized tourist attractions of China, it receives over 1,500,000 Chinese and foreign tourists every year, and has taken over the lead in the tourism industry of Suzhou for ten years running.
Shantang Street

Shantang Street, also known as Seven-mile Shantang, is a street in northwestern Gusu District, Suzhou, Jiangsu, China. The street connects Changmen (Chinese: 阊门) in the east with Huqiu in the west, with a total length of about 3,829.6 meters.
The Suzhou Museum of Opera and Theatre

The Suzhou Museum of Opera and Theatre or China Kunqu Museum is a theatre museum in Suzhou, China. It is located in a Ming dynasty theatre of latticed wood and has display halls with old musical instruments, hand-copied books, lyrics and scores, masks and costumes. It also has other paraphernalia including a life size orchestra and photographs of performers. The museum also covers kunqu's 500-year-old history. The museum is often used for performances today and the teahouse stages daily shows.
Zhouzhuang

Zhouzhuang is a town famous for its canals in Jiangsu province, China. It is located within the administrative area of Kunshan, 30 km southeast of the city centre of Suzhou.
Zhouzhuang is a popular tourist destination, classified as a AAAAA scenic area by the China National Tourism Administration. It is one of the most famous water townships in China, noted for its profound cultural background, the well preserved ancient residential houses and the elegant watery views. It has been called the "Venice of the East".
The Oriental Pearl TV Tower

The Oriental Pearl TV Tower locates at the end of Lujiazui, the bank of the Huangpu River. On the other side of the river is International Architecture Exhibition Group of the Bund. It shows the spectacular scenery of international metropolis --Shanghai. The Shanghai Oriental Pearl TV Tower, which can be seen from far away, is 468 meters tall. It's the tallest TV tower in Asia and the third tallest in the world.
Yu Garden

Yu garden is located in the northeast of Shanghai Old City area, covers an area of more than 20 thousand square meters, which is a famous classical garden in Jiangnan, and the national key cultural relics protection units. It was constructed in the period of Emperor Jiajing's of Ming dynasty from 1559-1577. It has a history of more than 400 years, which was originally the private garden of Pan Yunduan, Governor of Sichuan in the Ming Dynasty. He spent almost 20 years to build a garden in order to please his parents in their old age. That is why he called this garden "Yuyuan" - because "yu" in Chinese means "peace and health". In 1853, Shanghai small sword party uprised. One of the halls was used as headquarters.
The Old City God's Temple

The Old City God's temple is a Taoist temple, for worshipping 'Cheng Huang' , located in the middle Fangbang road, Huangpu district, as one of the 'Three Famous Temples along the Yangtze River'. It is one of the important shrines for enshrinement in Chinese Religious cultures. Old city God's temple is located in Shanghai's most prosperous and the most famous scenic spots, Yu Garden. Established in the Yongle reign, Ming Dynasty(1403-1424), it has a history of nearly six hundred years.
Xixi National Wetland Park

Xixi National Wetland Park has a long history with profound cultural heritage and it has even been regarded as a pure land for hermits. Qiuxue'an and Bo'an, Meizhu Villa and Xixicao Institute were all established by famous literati in history. With its wonderful landscape and natural environment, Xixi is not only a paradise for flora and fauna but for many kinds of birds also. With flocks of birds flying freely in the sky, Xixi is a harmonious window to a natural eco-system.
West Lake

The west lake, located in the west of Hangzhou, Zhejiang province, is China's first national key scenic area and one of the China's top ten scenic spots. It is one of the main ornamental freshwater lakes in China. West Lake is now one of the few limnic Cultural Heritage in' World Heritage' and also the only one in China.
Feilai Peak

Klippe Ling Yin (Fei Lai Feng, Ling Jiu Feng), stands next to Temple of Soul's Retreat (Lingyin Temple) and is a must-see in Hangzhou, Zhejiang Province. There are many legends about the peak's name. A well-known legend states that an Indian monk named Huili arrived in the valley 1,600 years ago and was surprised to see a peak so dissimilar from any other one in the valley. He believed that the peak had flown over from India because the shape, although unique in China, was common in India. However, he did not know why the peak would have flown to this spot so far from his country. Hence the peak's name was created and has passed down to the present day. Klippe is rare ancient grottoes art treasures in Jiangnan, which can be comparable to the Sichuan Dazu grottoes.
Note: CCMI accepts no responsibility for loss or damage to property injury incurred while attending the congress.